Luxury Villas for Sale in Samana Bay Dominican Republic.
Samana Bay Vista is a planned pristine gated community situated in the Samaná Peninsula overseeing the beautiful Samana bay. The sloping terrains and natural palm trees allows all resident's in the community to have a direct view of the bay where the Humpback Whales come during the first three months of every year and birth to their unborn babies. This exclusive community is a nature and sea lover's dream come true.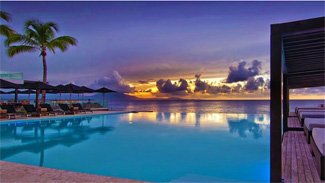 The community spans over 100,000 m2 and is located near many natural attractions and offers local dining, shopping, art and cultural activities. It is located approximately 15 minutes by shuttle or car to las Galeras Beach considered one of the most beautiful natural beaches in the Dominican Republic. Samana Bay Vista is located only 20 minutes just north of the City of Samaná were residents can rent boats to go fishing or seeing a close up of the Humpback Whales, or take tours of the surrounding areas.
The community features unique Oceanfront Luxury Villas and a Clubhouse.
The community has underground electrical wiring, Satellite TV and Internet, Phone and Water service.
Real Estate Properties in Samana Dominican Republic.